Keypads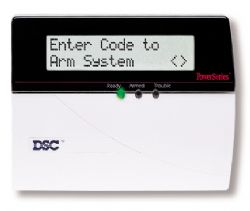 DSC offers a variety of keypads available for PowerSeries™ control panels, everything from simple LED keypads to programmable-message LCD keypads and fixed-message LCD keypads with integrated wireless receivers. Our keypads are an ideal choice for most installations—from small residential to medium-sized commercial.


1. LCD5511 NEW ICON LCD Keypad
The slim-line LCD5511 ICON LCD keypad presents the system status of PowerSeries security systems through the display of fixed symbols and numbers. Includes built-in configurable input/output terminal.

2. RF5501-433 Fixed-Message LCD Keypad with Integrated Wireless Receiver
The RF5501-433 by DSC is a fixed-message LCD keypad with integrated wireless receiver that transforms any PowerSeries hardwired alarm panel into a hybrid hardwire/wireless alarm system capable of supporting up to 32 wireless zones. Available with white or black bezel.


3. LCD5501Z Fixed-Message LCD Keypad
The LCD5501Z keypad features a large, fixed-message LCD and simple one-button activation of five programmable function keys. A built-in configurable input/output terminal is also included. Available with white or black bezel.


4. LCD5500Z Programmable-Message LCD Keypad
The LCD5500Z programmable-message LCD keypad offers a large backlit, two-line, 32-character display.


5. PC5508Z/PC5516Z/PC5532Z 8/16/32 Zone LED Keypads
These three keypads feature an LED display for status-at-a-glance of system functions and status lights for zones.


6. PC1555RKZ 8 Zone LED Keypad
Quick to install, the cost effective and simple to use PC1555RKZ features a zone input and LED status lights for zones and status functions.